Humboldt Growers in State of Fear as DEA Raid Week Approaches
Posted on Jun 19, 2008 - 12:11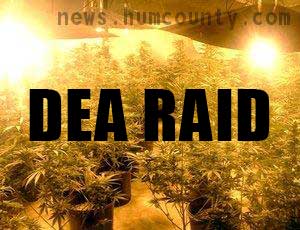 The entire county is talking about local blogger Heraldo's announcement that the U.S. Drug Enforcement Administration is planning hundreds of raids on indoor marijuana growers next week in Arcata.
Word spread fast after the initial story broke, and locals everywhere are claiming they have heard confirmation of this rumor from various sources, including lawyers, law enforcement agencies, and other prominent residents who are "in the know". The rumor supposedly has some growers hastily packing up their operations, while others seem to figure if it's their time, they'll go down with the ship. One thing is for sure, if the feds do come in and raid actual legitimate medical operations, there is bound to be a backlash of some sort.
One anonymous commenter at the Humboldt Herald claimed to have "inside information" that DEA agents have been stationed in Scotia for "over a month" and that other agents are already roomed at the Red Lion in Eureka. Another commenter claims that 500 employees of the "Justice Dept" are headed this way to attend a week-long conference in Fortuna. We called the Fortuna River Lodge, where the supposed conference is to take place, and asked them about events happening next week. They confirmed that all conference rooms are booked Monday through Thursday, but they claimed that they did not have information on hand about specific events on the schedule.
This morning Heraldo posted a comment on his own blog stating that the FBI has set up shop in Eureka:
"THIS JUST IN: Up to 60 FBI agents may have recently rented houses in Eureka. No confirmation whether it's connected to the planned DEA actions."
If it happens, next week's federal raids promise to make headlines across the nation, and there is a chance that it could be the largest collective marijuana bust in the history of the United States, especially if rumors are true that as many as 200 grow houses will be raided.
We seriously question the legitimacy of the rumors, especially the numbers that are being tossed around. 200 raids means 200 federal search warrants, which isn't impossible, but it does sound unlikely. The DEA can't just bust down your door without a warrant signed by a judge, and a search warrant should require evidence collected during an actual investigation, so we are definitely interested in seeing what really goes down next week. Furthermore, PG&E has stated in the past that customer privacy is very important to them, and that any release of private account records would require legal action.
Also, as many people have wondered in various blog discussions, where will the arrested individuals be held, and how will they be processed? Not that we doubt the government's ability to incarcerate large numbers of marijuana users, but it just seems unlikely that even 100 individuals would be detained at once. Then again, it might just be a one-time event like the great glass blower bust of 2003 during which 101 North was raided by DEA agents.
One thing is for sure: The gold rush is over, even if the feds aren't about to bust hundreds of growers. Arcata is sick of the pot growing scene, and some California counties have begun to question their own laws regarding the medicinal herb.
If you are one of the growers who winds up getting raided by the feds next week, feel free to share your experiences with us.
UPDATE: Herlado, the local blogger who officially spread word of the impending raids, now says that the rumors are officially false.
"Drug Enforcement Agency spokeswoman Casey McHenry told KMUD news reporter Cynthia Elkins that rumors of a crack-down on indoor marijuana grow operations in the Arcata/Eureka area are not true."
Of course, we would expect a statement of denial from the DEA regardless of their plans. Regardless, the truth will come out next week, and it's always likely that someone, somewhere in Humboldt County will be busted by the feds for drug related crimes and conspiracies, seeing as how Arcata seems to be chock full of criminal growers.
Either way, it was fun, Herlado! Keep up the blogging, rumors or not!