Pot Growers In Eureka Face Uncertain Future
Posted on Jul 21, 2010 - 15:20
The time of reckoning for marijuana growers in Eureka, California is right around the corner.
The Eureka City Council is about a week away from approving an ordinance that would effectively put an end to for-profit residential pot production. According to the Times-Standard, the council voted unanimously to introduce the ordinance for the city of Eureka, and they will convene again on August 3, 2010 to vote the ordinance into law.
Here's a quick summary of the new residential regulations outlined in the ordinance:
Medical marijuana users may only grow for themselves in their residences
Grow space limited to 50 square feet and 1200 watts
Pot gardens must have a permit from the city for any special electrical wiring
All CO2 use is banned
Property owners will be forced to allow the city to inspect properties
This is a HUGE DEAL for Eureka, and it is very likely that the ordinance will pass early next month. This will pretty much shut down all black-market marijuana gardens within the city limits, and could become a huge problem for property owners who rent to growers, whether they are aware of gardens on their properties or not.
Once the city determines that a property might be housing an indoor pot farm, they will notify the property owner by certified mail. If the owner does not respond within seven days, the city seeks an inspection warrant to enter the home and check for compliance with the new law. After that initial seven days, the city will also hit the property owner with fines of $50 per day until it is inspected.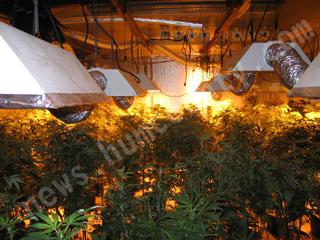 We're all for regulating marijuana production and eliminating the black market criminals who do little to support the community, but it seems a bit aggressive to be fining property owners on a daily basis over the inspections. What's more, it is unclear what kind of information the City of Eureka must obtain before it decides to perform an inspection on a property. We foresee unfortunate situations arising where nosy neighbors abuse this system to harass residents in their neighborhoods, forcing them to open their doors to city inspectors based on little more than hearsay or personal opinions.
Regardless, things are changing in a big way the Humboldt County Seat, and we expect to see many growers moving out of city limits as soon as possible.
And we can't help but wonder if this is ultimately good for the city? If growers can't turn a profit in the city of Eureka, will this lead to decreased demand for home rentals? Will it eventually lead to lowered property values because growers will no longer be looking to purchase homes or rent properties inside the city?
Let's face it, nobody is moving to Eureka, California for the great schools or the high paying jobs. They're moving here to grow pot or to service the pot growing industry. Or maybe to retire. That's it. Everyone knows our economy is based almost entirely on illegal marijuana production, whether we like it or not. If property values decline in Eureka, there will be less money for schools, less money for city services, and less money to pay for political positions like those held by our city councilmen.
Is this really what we want? Maybe there is a better way...