You Know You're In Humboldt County
Posted on Oct 13, 2008 - 7:36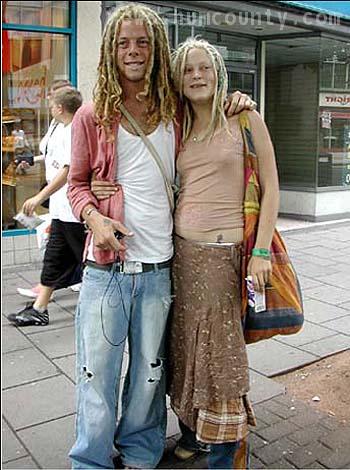 Ekovox recently posted an email that is circulation entitled "You know you're from Eureka if...". We thought it was a good idea, so we're taking it one step further and doing a list for all of Humboldt County. Here goes:
You know you're in Humboldt County if...
One out of every three vehicles you see on the road is a gigantic pickup truck with a 12" lift and a 20-something pot grower's girlfriend behind the wheel.
Your internet and long distance connectivity is severed every few months when Caltrans digs up the fibre to San Francisco.
Everyone you know has been robbed or burglarized at least once.
You never leave your car unlocked, not even for a couple minutes while you run into the gas station for smokes.
The sun only comes out once a week, maybe less.
The pungent smell of fresh marijuana wafts through your neighborhood on a regular basis.
You don't bother calling the cops, ever, because you know they won't show up for at least two hours.
There's an indoor marijuana garden related house fire at least once a month.
Every person under the age of 30 you see walking around town is wearing a hooded sweatshirt.
Every person under the age of 24 has their hood pulled up over their head, even when the weather is nice.
You fully expect every driver on the road to be uninsured and driving an unregistered vehicle without a valid license.
Nobody smiles at you or says hello.
White people with super gross dreadlocks are everywhere. The longer the dreads, the more disgusting the person wearing them seems to be.
At dusk, only half the drivers on the road use their headlights. The other half are divided into two groups: those who refuse to turn their lights on until it's actually pitch dark, and those who think it is acceptable to drive around with only their parking lights on.
Every house has the curtains drawn or the shades closed to hide the marijuana growing activity within.
Locals are outnumbered 4-1 by out-of-towners who moved here to grow pot.
There are hundreds of restaurants, but only about 5 that are worth eating at.
You can't walk down the street without some homeless 19 year old with dreadlocks asking you for spare change. When you refuse, he cusses at you and says something about capitalism and greed.
Nobody drives the speed limit. They either go 5 mph under the limit, or they go 10-20 mph over.
Did we miss any? Feel free to add yours in the comments section!