Wacko Sues Everyone in Humboldt County
Posted on Sep 16, 2008 - 7:35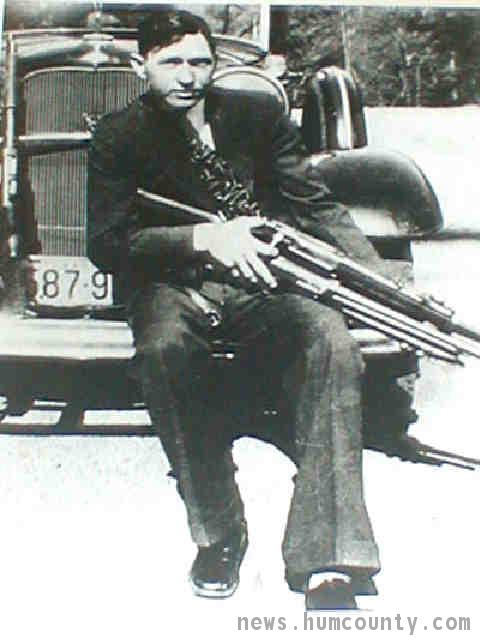 Anyone remember Zachary Cruz Cooke from early 2007? Let us refresh your memory:
Cooke was the 18 year old kid who went on a fanatical Bonnie and Clyde style crime spree in late 2006. He and some buddies were super high on an extended meth binge in Eureka and decided to hold up some convenience stores around Humboldt County with guns and masks. They robbed a few places (3 if we remember correctly), and then fired some shots at a sheriff's deputy in Myrtletown after a late night car chase just before Christmas 2006. They were some of the most violent and dangerous criminals in Humboldt County history, and the local coppers launched a massive investigation to hunt these guys down and lock them up before they hurt or killed someone.
The whole thing ended on Jan 4, 2007, when a 6-man task force of local police, sheriff's deputies, and ATF agents busted down the door of the vacant house at 3207 Albee St. in Eureka where Cooke and at least one other man were squatting and doing drugs between armed robberies. When the task force came in, Cooke fired at them with the stolen shotgun he was holding, and the task force responded in kind, shooting him dead right there in the thick of his own meth'd up squalor.
Now, almost two years later, Cooke's father, Alan, has finally found an attorney to take his case to the civil courts. No one but Alan and his attorney are entirely sure how they are going to win a wrongful death case in which the deceased committed multiple violent armed robberies, fired a gun at a sheriff's deputy after a high speed car chase, then shot at the task force that came to arrest him a few days later, but clearly they think they have it in the pocket. To the tune of $25,000 for each local agency named in the suit (5 or more by our count).
According the Eureka Reporter, the lawsuit says "Zachary Cooke was murdered ... without any lawful justification; the defendants are liable for the use of wrongful force in shooting Zachary to death."
Wait wait wait wait, is this to say that going on a wild crime spree of armed robberies and urban shootouts before attempting to kill the law enforcement team that came to arrest him was not illegal? Or perhaps that when Cooke fired that shotgun at those cops, well apparently those cops should have just turned around and left, or maybe they should have stood there and let Cooke shoot them all before he cut out another hotrail in the Albee house where he was squatting? Oh no no we get it, those coppers should not even have been pursuing Cooke in the first place! Come on, right? He was only a kid, and well, kids will be kids!
Alan Cooke, please stop wasting everyone's time and the resources of our county's insurance company by filing frivolous civil suits against them over the death of your violent and drug addicted son. You won't win, and you'll only make more enemies in the community. Your son robbed people here, he tried to kill a cop, then fired a shotgun at a whole team of cops! Don't be surprised when the community strikes you down for not only raising a child that threatened to destroy the lives of dozens of community members, but also seeking monetary damages after our law enforcement officers risk their own lives to take this violent drug addict off the streets.
Is it just us, or does it sound like Alan Cooke is actually trying to cash in on the death of his son?
We would also like to note that even Rose was in support of the DA's 2007 decision to skip charges against the officers who shot and killed Cooke at the Albee St. residence. And she hates the DA!