Archives September 2008
Posted on Sep 16, 2008 - 7:35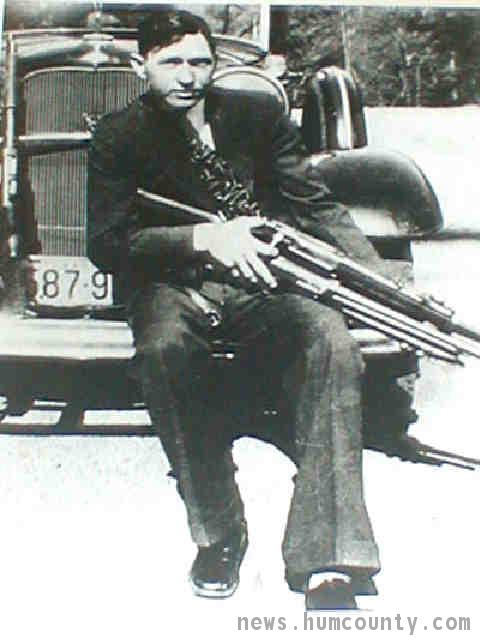 Anyone remember Zachary Cruz Cooke from early 2007? Let us refresh your memory:
Cooke was the 18 year old kid who went on a fanatical Bonnie and Clyde style crime spree in late 2006. He and some buddies were super high on an extended meth binge in Eureka and decided to hold up some convenience stores around Humboldt County with guns and masks. They robbed a few places (3 if we remember correctly), and then fired some shots at a sheriff's deputy in Myrtletown after a late night car chase just before Christmas 2006. They were some of the most violent and dangerous criminals in Humboldt County history, and the local coppers launched a massive investigation to hunt these guys down and lock them up before they hurt or killed someone.
The whole thing ended on Jan 4, 2007, when a 6-man task force of local police, sheriff's deputies, and ATF agents busted down the door of the vacant house at 3207 Albee St. in Eureka where Cooke and at least one other man were squatting and doing drugs between armed robberies. When the task force came in, Cooke fired at them with the stolen shotgun he was holding, and the task force responded in kind, shooting him dead right there in the thick of his own meth'd up squalor.
Now, almost two years later, Cooke's father, Alan, has finally found an attorney to take his case to the civil courts. No one but Alan and his attorney are entirely sure how they are going to win a wrongful death case in which the deceased committed multiple violent armed robberies, fired a gun at a sheriff's deputy after a high speed car chase, then shot at the task force that came to arrest him a few days later, but clearly they think they have it in the pocket. To the tune of $25,000 for each local agency named in the suit (5 or more by our count).
According the Eureka Reporter, the lawsuit says "Zachary Cooke was murdered ... without any lawful justification; the defendants are liable for the use of wrongful force in shooting Zachary to death."
Wait wait wait wait, is this to say that going on a wild crime spree of armed robberies and urban shootouts before attempting to kill the law enforcement team that came to arrest him was not illegal? Or perhaps that when Cooke fired that shotgun at those cops, well apparently those cops should have just turned around and left, or maybe they should have stood there and let Cooke shoot them all before he cut out another hotrail in the Albee house where he was squatting? Oh no no we get it, those coppers should not even have been pursuing Cooke in the first place! Come on, right? He was only a kid, and well, kids will be kids!
Alan Cooke, please stop wasting everyone's time and the resources of our county's insurance company by filing frivolous civil suits against them over the death of your violent and drug addicted son. You won't win, and you'll only make more enemies in the community. Your son robbed people here, he tried to kill a cop, then fired a shotgun at a whole team of cops! Don't be surprised when the community strikes you down for not only raising a child that threatened to destroy the lives of dozens of community members, but also seeking monetary damages after our law enforcement officers risk their own lives to take this violent drug addict off the streets.
Is it just us, or does it sound like Alan Cooke is actually trying to cash in on the death of his son?
We would also like to note that even Rose was in support of the DA's 2007 decision to skip charges against the officers who shot and killed Cooke at the Albee St. residence. And she hates the DA!
Posted on Sep 7, 2008 - 8:06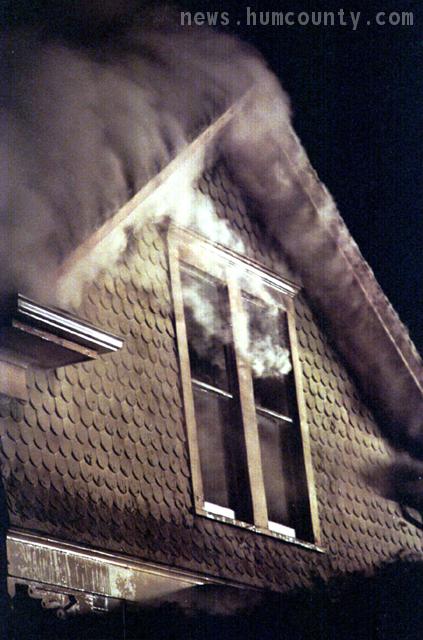 Why was it that when we were unable to drive down Harrison Ave. last evening due to fire trucks and EPD cruisers blocking the way we immediately thought "some grower must have burned down another house"? Are we jaded? Well, yes, but that's beside the point.
Sure enough, this morning's Eureka Reporter contains a short article about the house fire on Harrison that was caused by "owner installed lighting and electrical equipment" in the attic where two soil beds of marijuana plants were being grown. When does a house burn down in this county that isn't the result of ghetto electrical wiring or a tipped over fan in a pot garden? It rarely happens. Growers burn down more homes in this area than any other cause, no question about it.
We should probably also point out that the house fire in McKinleyville on Friday was also the result of a gigantic, house-wide marijuana growing operation that burst into flames. This one happened while someone was there! Isn't that the purpose of having a person man your grow op, so that they can prevent unwanted events like structure fire from happening? This home was so completely converted for pot growing that some of the firefighters who entered the house to extinguish the blaze became tangled in loose wires and burned ventilation tubing. Good thing for them they are trained to escape from exactly that sort of mess.
Yeah, and people want to argue that pot growing is harmless? Combine the constant residential fires with the associated violence, burglaries, tax evasion, and environmental damage, and there's no question that we have a serious problem on our hands.
Come on Humboldt residents, let's run these destructive and greedy criminals out of our beautiful county!
Posted on Sep 5, 2008 - 7:55
Yikes. ABC News has an in-depth article on marijuana profits in, where else, Humboldt County, and how Arcata is basically marijuana central, home to weirdos and pot profiteers.
We're glad that Mary Spicuzza, author of the article published today on the ABC News website, noted that "tensions seem especially high" in Arcata due to the disagreements on the legality of such a highly profitable yet questionable industry. The article starts out describing Stephen Gasparas who owns the Arcata iCenter, and mentions that he makes about $100,000 from his marijuana business.
This surprises us, particularly because we are under the impression that it is not legal to turn a profit from medical marijuana, so it's interesting that Gasparas would reveal that he makes six figures and drives a brand new Toyota SUV. Are growers and dealers here so comfortable today that they don't even give a crap about the fact that growing pot for profit is illegal?
The article also discusses tax revenue from marijuana, stating that only $143 million in marijuana sales are reported annually statewide, netting $11.4 million in tax revenue. But conservative estimates of gross sales in Humboldt County alone are steady at $500 million, and Cal NORML even estimates that Californians grow/smoke/sell as much as $2 billion worth of marijuana each year. Where's the rest of the tax revenue? Oh right, there isn't any more, because the vast majority of marijuana growers and dealers in Humboldt County (and surely all of California) are actively evading taxes and dealing their cash crops to the highest bidders, especially out of state dealers. Then what do they do with their ill-gotten money? They buy fancy trucks and SUVs, of course.
So what happened to the feds? They rolled in and raided a fairly wimpy ring of suspected growers, somehow missing out on the half billion dollar industry that is largely criminal and illegal. Well, whatever. With articles like this getting national attention, it won't be long before they return...
Posted on Sep 4, 2008 - 22:58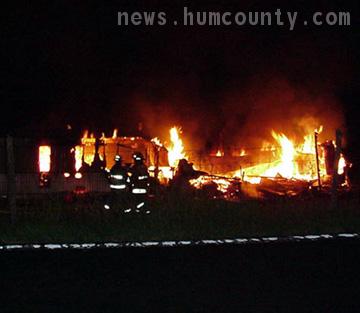 Coppers are on the trail of the latest commercial indoor grower to burn his operation to the ground after Cal Fire extinguished a blaze on the 100 block of Weott Heights Road in Weott, just south of Eureka.
Apparently someone screwed something up at this 10-light pot growing facility, which as it turns out was actually a singlewide mobile home. Oops! Guess no one told the growers in Weott that trailers don't make good structures for 10,000-watt marijuana gardens, what with the low grade wiring and highly flammable construction materials.
Ten thousand watts worth of marijuana garden should realistically yield about 40 pounds per year, assuming a 90 day grow cycle at one pound per 1000 watts, and that the grower is getting $3400 per pound, which we are told is a pretty standard price for decent bud here in Humboldt County. That means this criminal was grossing upwards of $136,000 per year from that singlewide trailer. Maybe they should have looked into some business insurance to cover the hazards of running a ten thousand watt operation. Oh wait, that's not an option because growing pot commercially is illegal!