Grow-Related Diesel Spills Threaten Environment
Posted on May 17, 2008 - 8:04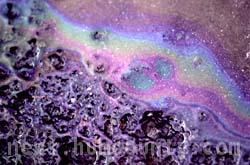 Diesel spill incidents caused by irresponsible marijuana growers in both Fortuna and Salmon Creek are in the headlines today.
The Fortuna incident actually occurred late last year, and Lucas Hall, a Fortuna marijuana farmer, has been cited for multiple environmental violations after his improperly buried diesel fuel tanks leaked enough of the fuel into a nearby creek to warrant a fines totaling $156,446.00.
The other incident is more recent and involves yet another marijuana growing operation running on diesel generators in Salmon Creek. Environmental authorities figure at least 1,000 gallons of diesel fuel have already leaked into Hacker Creek and the surrounding area, and the damage covers at least a few hundred meters between the fuel tanks and into the creek.
Residents near Hacker Creek actually pump water from the stream into their homes, and the area is remote enough that some neighbors don't even have phone lines. This makes it difficult to warn those people that their drinking water has been contaminated by a careless pot farmer.
It is truly sad that this is the way things sometimes go down around here. We can't help thinking that if the county showed more official support for marijuana growing then maybe fewer residents would try to hide their operations by burying illegal diesel generators and fuel tanks. There must be a half dozen cannabis related diesel spills each year, and that's only what we know about!
Is there any solution to this problem? Obviously the hillfolk will continue to grow pot no matter what, so maybe we need our environmental officials to publicly announce that they will offer help and support to remote growers in an effort to protect the environment from noxious chemical spills.