Eureka House Fire the Result of You-Know-What
Posted on Sep 7, 2008 - 8:06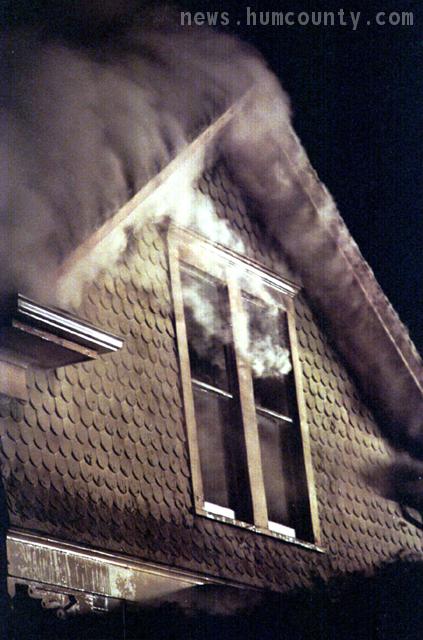 Why was it that when we were unable to drive down Harrison Ave. last evening due to fire trucks and EPD cruisers blocking the way we immediately thought "some grower must have burned down another house"? Are we jaded? Well, yes, but that's beside the point.
Sure enough, this morning's Eureka Reporter contains a short article about the house fire on Harrison that was caused by "owner installed lighting and electrical equipment" in the attic where two soil beds of marijuana plants were being grown. When does a house burn down in this county that isn't the result of ghetto electrical wiring or a tipped over fan in a pot garden? It rarely happens. Growers burn down more homes in this area than any other cause, no question about it.
We should probably also point out that the house fire in McKinleyville on Friday was also the result of a gigantic, house-wide marijuana growing operation that burst into flames. This one happened while someone was there! Isn't that the purpose of having a person man your grow op, so that they can prevent unwanted events like structure fire from happening? This home was so completely converted for pot growing that some of the firefighters who entered the house to extinguish the blaze became tangled in loose wires and burned ventilation tubing. Good thing for them they are trained to escape from exactly that sort of mess.
Yeah, and people want to argue that pot growing is harmless? Combine the constant residential fires with the associated violence, burglaries, tax evasion, and environmental damage, and there's no question that we have a serious problem on our hands.
Come on Humboldt residents, let's run these destructive and greedy criminals out of our beautiful county!