Marijuana Grow House Burns Down in Weott
Posted on Sep 4, 2008 - 22:58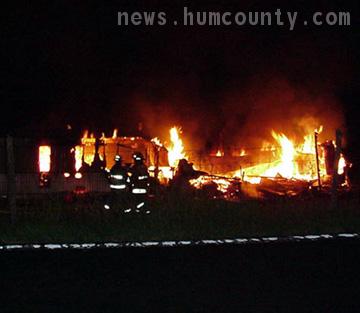 Coppers are on the trail of the latest commercial indoor grower to burn his operation to the ground after Cal Fire extinguished a blaze on the 100 block of Weott Heights Road in Weott, just south of Eureka.
Apparently someone screwed something up at this 10-light pot growing facility, which as it turns out was actually a singlewide mobile home. Oops! Guess no one told the growers in Weott that trailers don't make good structures for 10,000-watt marijuana gardens, what with the low grade wiring and highly flammable construction materials.
Ten thousand watts worth of marijuana garden should realistically yield about 40 pounds per year, assuming a 90 day grow cycle at one pound per 1000 watts, and that the grower is getting $3400 per pound, which we are told is a pretty standard price for decent bud here in Humboldt County. That means this criminal was grossing upwards of $136,000 per year from that singlewide trailer. Maybe they should have looked into some business insurance to cover the hazards of running a ten thousand watt operation. Oh wait, that's not an option because growing pot commercially is illegal!