Traffic Stop Ends in Drowning
Posted on Apr 21, 2008 - 15:00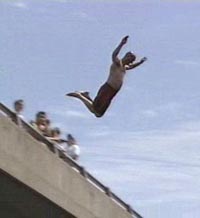 A Redway man is dead after a crazy traffic stop incident yesterday just north of Weott on the Avenue of the Giants.
The Humboldt County Sheriff's Office press release says a deputy conducted a traffic stop of the man's vehicle just after noon yesterday. Once the vehicle pulled over the driver immediately got out of the car and jumped off a steep 60 foot embankment.
Obviously the deputy didn't chase the guy down to the river, not only because it would be suicidal, but also because the passenger from the suspect vehicle, Kelly Stradinger, got out of the car and became "belligerent". She was later arrested for obstructing a police officer after kicking the deputy many times. The deputy was also bitten in the leg by Stradinger's dog. She also had some pot and was cited for that.
In the meantime, a search was launched for the man who jumped down the embankment, and just about an hour later his body was located in the Eel River.