Pot Grower Risks Life to Save Dog
Posted on Nov 30, 2007 - 0:00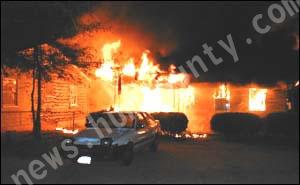 Eureka resident Andrew Butts made a daring rescue attempt during an apartment fire Wednesday night on Avalon Drive around 5:30 p.m.
Firemen on the scene extinguished the blaze in about 10 minutes, then discovered an indoor marijuana growing operation inside the apartment where the fire occurred.
Humboldt Fire District No. 1 Chief Glenn Ziemer told the Times-Standard that the indoor marijuana growing operation they discovered "doesn't appear to [be] the origin of the fire."
Unfortunately the dog was not rescued, and it is currently not known if the animal escaped the blaze.
Butts was later treated at a hospital for first and second degree burns he received while he was inside the burning structure looking for his dog. It is not known if Butts was the owner of the pot garden or if he was just a neighbor trying to save a pot grower's dog.
Tuesday night also saw some house fire action in Cutten where a duplex burned due to an apparent furnace malfunction.