Trinidad Trio Involved In Violent Domestic Brawl
Posted on May 27, 2008 - 13:27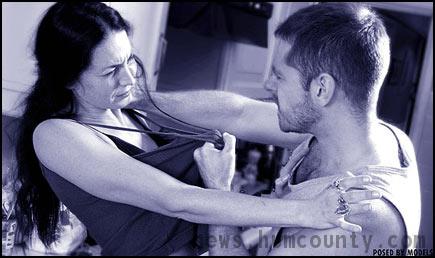 A fresh press release from the Humboldt County Sheriff's Office describes a wild domestic disturbance in Trinidad last night that ended with multiple hospital visits and numerous criminal charges.
It seems that a man named Lorenzo Jay Erickson got into a heated argument with his girlfriend and her brother. This soon escalated into a full-on knock-down drag-out brawl during which Erickson beat his girlfriend first with some rocks, then with a t-shirt full of rocks. He also beat his girlfriend's brother with a large rock.
That is apparently when Lorenzo's girlfriend grabbed a knife from her kitchen and attacked him, cutting his face and arm. This reportedly sent Erickson into a wild rage which caused him to smash every window on the property, including those of the the girlfriend's car out front.
Lorenzo bailed fast when he heard the cops approaching, and officers from multiple jurisdictions were unable to find him until 2:45 a.m. when he returned to the scene and was eventually found hiding in the bushes nearby.
Erickson was booked for the following crimes: assault with a deadly weapon, threatening a crime with the intent to terrorize, domestic violence, and vandalism, and parole violation. He should be arraigned on Thursday, and he won't be eligible for bail. Lock 'em up!