Sheriff Finds Big-Ass Willow Creek Indoor Grow House
Posted on May 21, 2008 - 6:57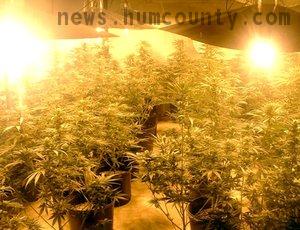 There's nothing too special about yesterday's press release from the Humboldt County Sheriff's Office. Another day, another marijuana grow house busted.
This one is only slightly different from the norm in that it's a rental unit that was converted entirely into a giant garden. Every room, the HVAC system, the electrical system, the whole place was remodeled to accommodate a massive pot grow.
Yeah yeah, who cares, right? Well, first off, we care, because this is just one more example of local law enforcement using their resources to go after marijuana farmers instead of real criminals. Sure, it's not very cool to ruin someone's rental property just to grow your pot. The way the press release reads, it seems like these growers could afford to just buy their own house and convert it into a massive garden. But then, no arrests have been made yet, so who's to say these guys don't have another 5 houses full of pot plants in the area?
Which leads to another topic: Maybe it is worthwhile to have the Sheriff going after "big-time" pot growers, guys who have multiple houses and are making so much damn money off black market pot deals that is really is conspiracy to distribute a controlled substance. We're fine with small timers growing their 215 medicine, but it does get out of hand when you have people running gigantic million dollar pot operations out of rental homes.
Opinions? Can we get some comments from real growers on this topic?