Humboldt Man Arrested with Hashish in Novato
Posted on Dec 2, 2007 - 0:00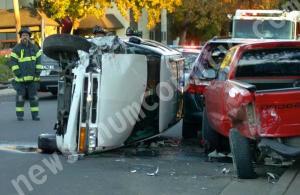 Fairfax, Humboldt County, resident George Malamphy, 57, was arrested in Novato, Calif., after he crashed his car and was found to be in possession of pot and hashish.
Malamphy was driving his vehicle southbound on Center Road in Novato at a presumed high rate of speed when hecrashed into a parked car.
The force of the collision flipped Malamphy's vehicle in a car crash spectacle reminiscent of scenes from The A-Team, an action show from the 1980s featuring Mr. T in which every vehicle flips through the air when it hits a parked car during a chase scene.
Malamphy sustained minor injuries and was arrested at the scene for the marijuana and hashish he possessed. He has been booked into the Marin County Jail, which is fine with Humboldt law enforcement officials because he already has a warrant out for his arrest issued by Humboldt County for transportation/sale of a narcotic and transportation/sale of less than an ounce of hashish.