Humboldt Cop Shoots Dangerous Drunk Driver
Posted on Sep 25, 2007 - 0:00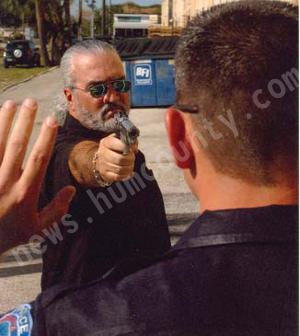 A man suspected of driving under the influence was shot Sunday after a vehicle pursuit that ended with the driver's alleged attempt to back over an officer from the Humboldt Area Office of the California Highway Patrol.
Rodney J. Bartow, 53, was airlifted to Redding for medical treatment, but was subsequently transported back to Humboldt County and booked into the correctional facility in Eureka.
The incident began around 5 p.m. Sunday with an anonymous tip reporting a DUI driver near the 76 gas station in Blue Lake.
A news release issued by the Humboldt County District Attorney's Office stated that a CHP unit responded to the gas station, located the vehicle and attempted a traffic stop.
http://www.eurekareporter.com/ArticleDisplay.aspx?ArticleID=28728