University Accepts One Million Dollars
Posted on Sep 19, 2007 - 0:00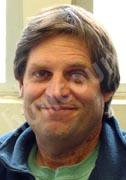 Two Humboldt State University alumni have promised a $1 million dollar donation toward the construction of a self-sustaining, long-term shelter for battered women and their children.
Byron Turner and Allison Minch, who finished postgraduate studies at Humboldt State in the early 1990s, pledged the gift to help build the Oasis Project in Humboldt County by the end of the decade.
The money comes from the $2 million sale of instructional software written for Created Equal, the non-profit Turner and Minch founded in 1995.